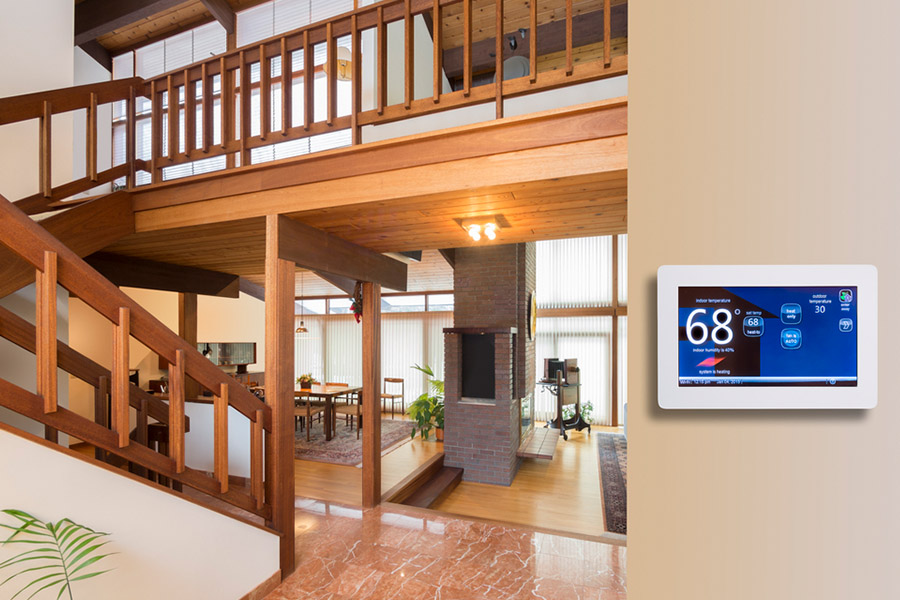 Should You Install A Smart Thermostat In Tempe? | Secure24 Alarm Systems
Today's smart thermostats have progressed far beyond the simple dial or switch for regulating your temperature settings. If you think now might be the right time to install a smart thermostat in Tempe, you stand to get an abundance of comfort with much less work. Featuring Wi-Fi, sensors for multiple rooms, and integration into your home automation network, these revolutionary controls will reduce utility bills and improve your home's overall comfort and safety.
What Is A Smart Thermostat In Tempe?
Following installation, your multi-faceted smart thermostat will run the same as the old version in the sense of core functionality. The look might be a bit more elegant, but you'll have the same ability to view the temperature display. You'll still have the chance to raise and lower your temperature settings from the device, and your thermostat continues to allow you to quickly adjust settings for heat, cool, and fan.
But, when you install a smart thermostat in Tempe, you will benefit from a wide array of exciting features. That's because your home's comfort control is connected wirelessly to a larger system, like your Google smart speaker or home security system. Through the use of a central interface or smartphone app, you may set your smart thermostat to adjust the comfort levels automatically at different times of day or to respond to input from another device. The result is a home that's more comfortable and energy-efficient.
It Makes Sense To Install A Smart Thermostat in Tempe
There are a range of incentives for upgrading your standard unit to a smart thermostat:
● Simple management through a mobile app. Manage the thermostat from a distance with a mobile app like the easy-to-use option from ADT. Does it feel stuffy while you're trying to sleep? Simply open your phone and lower the temperature without getting up. Or inspect your home's temperature readings on your beach vacation, and alter the settings to reduce energy usage when nobody's there.
● Set a schedule. A smart thermostat allows you to implement one or more schedules for your HVAC system. Set different temperatures to best fit your lifestyle. Lower the temperature when it's time to go to bed, then bring it back up again in the morning an hour or so before you wake up. Or design specific scenes for certain situations -- such as a scene for when you're hosting a party or one for when you use the fireplace.
● Reduce energy consumption with automation. A great benefit of smart thermostats is that they can reduce energy expenses. Because you can effortlessly modify the temperature as needed due to seasonal changes, weather, or specific times of the day. You won't spend excess energy treating the air within a vacant residence. Additionally, when implementing schedules, your thermostat changes the temp automatically. Various energy providers even offer incentives and rebates on select models.
● Make use of vocal directives to direct your home. If you decide to install a smart thermostat in Tempe, you also have the opportunity to hook it up to operate with a Google or Amazon AI assistant. This offers the chance to adjust the settings through simple spoken commands.
● Link your thermostat to other home automation devices. In the event your smart thermostat is integrated within a complete home defense package, you can join all your elements together. This will help protect your property from environmental emergencies. For example, you might set your thermostat to activate the exhaust fan if your fire alarms sense excess heat.
Get A Smart Thermostat In Tempe Today
If your standard thermostat falls short of meeting your home comfort requirements, you should consider upgrading to an innovative smart model. These devices streamlined, a cinch to control, and can save money over the long haul. It's also best when you connect it with a modern residential security installation. Call us today at (480) 608-0064 or complete the form on this page to order your Tempe smart thermostat.
Communities Served Around Tempe By Secure24 Your Local ADT Authorized Dealer